Real friends.

Snap Inc.'s first-ever global integrated marketing campaign, across cinema, broadcast, print, radio and digital was developed in-house by Snap's internal creative team.
The goal was simple:
put a spotlight on the value and importance of the people who love you exactly the way you are.
Snapchat is (and always has been) about staying close with the people you actually care about. There are all sorts of places to connect and share and get inspired and meet new people... but Snapchat was built to help you talk more often with your real friends.
The videos were produced with creative and production partners (and my old homies)
SpecialGuest
.
︎
Press Highlights: Adweek, AdAge, CNBC
ECD: Antoine Choussat
CD: Jordan Stone
Sr. Producer: Jackie Fuhrman
Copy Lead: Brian Lee
Project Manager: Lauren Grigsby
Brand Manager: Ellis Hamburger

SpecialGuest:
ECD: Aaron Duffy
Creatives: Gregg Kaysen, Rinee Shah
But let's start from the beginning...
We began with a "tease" -- reminding the world of the meaning and value of true friendship through the words of luminaries from the past.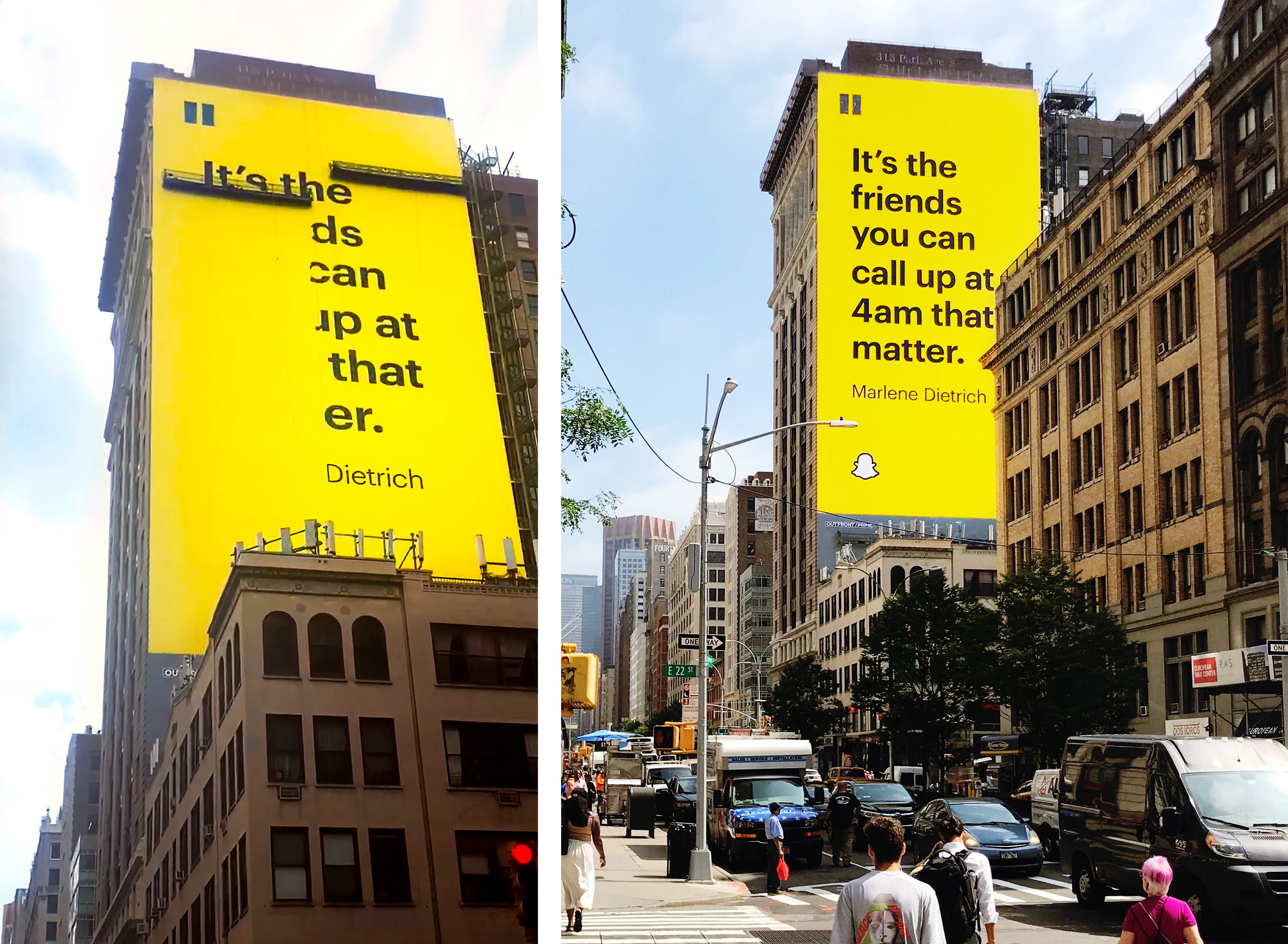 Then, we had a little bit of fun on Instagram... we partnered with hundreds of "Quotefluencer" accounts from across the world to take over two hashtags: #realfriends and #friendship quotes.
And finally, on the United Nations International Day of Friendship (July 30th) we launched the full campaign.
37 films of real Snapchatters from 13 countries.
Real friends talking about each other while we see the 1:1 Snaps they send each other. Below are a few of my favorites -- but you can check them all out on
Snapchat's YouTube page
.
They were accompanied by location-specific OOH that put the real friend pairs on pedestals in their respective countries or hometowns.